Bald Eagle Juvenile
A juvenile Bald Eagle paying close attention to his surroundings in Homer, Alaska in the USA.
As you can see by this juvenile Bald Eagle standing along the waters edge in Homer, Alaska, its plumage is a mixture of brown and white which molts in various areas at different times. It can sometimes take about six months for the feathers to replace themselves and about five years for the feathers on their head and tail to change to white.
The juvenile Bald Eagle has a black bill and you can tell when it is nearing maturity as it will change to a bright yellow. The eyes also change to yellow as it ages. The beak on this Eagle is already starting to change and so are its eyes.
Sometimes a juvenile Bald Eagle is incorrectly identified as a Golden Eagle except that the main difference being that they have a considerable amount of more white on their feathers. Learning to hunt is something that the parents of the Bald Eagle cannot teach their young. They have to watch their parents in action and practice on their own.
... continue below the picture...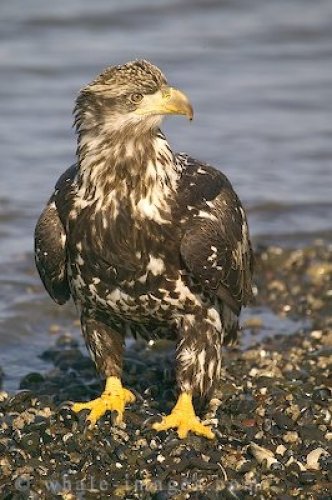 Photo of a juvenile Bald Eagle along the
shore in Homer, Alaska in the USA.
Pictures from the collection "USA"
= click to scroll forwards/backwards
If touring Alaska, head to Homer where you can see hundreds of adult and juvenile Bald Eagles annually in the winter. Homer, Alaska in the USA is a well known place to view these magnificent birds of prey.
Bald Eagle, Haliaeetus leucocephalus, Alaska, Homer, USA
Related tags / search terms for:
Bald Eagle Juvenile
Title
Bald Eagle Juvenile
A juvenile Bald Eagle paying close attention to his surroundings in Homer, Alaska in the USA.
Scientific Name
Haliaeetus leucocephalus
Photographer
Rolf Hicker
Photo name
f76t5871 - Bald Eagle Juvenile
Products available for this photo
You can add any of the above products to your shopping cart.
All of our prints come masterfully printed on museum-quality archival paper, and every product comes with your satisfaction guaranteed!

We usually ship within 48 hours!