Sealions
Sealions along the coast of British Columbia, Steller Sea Lions
Sealions - Steller Sea Lions - Eumetopias Jubatus, British Columbia.


These burly sealions are distributed across the north Pacific Ocean from Japan to Alaska and down to the British Columbia Coast of Canada, and beyond to California.


It seems that the population of these sealions is the most prolific in British Columbia due to the abundance of naturally oily fish which these carnivores prey on.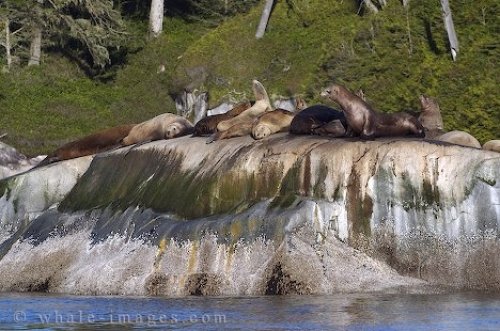 Photo of sealions on a rock off the British Columbia coast.
Pictures from the collection "USA"
= click to scroll forwards/backwards
Related tags / search terms for:
Sealions
Title
Sealions
Sealions along the coast of British Columbia, Steller Sea Lions
Scientific Name
Eumetopias jubatus
Photographer
Rolf Hicker
Photo name
crw_1390 - Sealions